Submitted by
Anonymous (not verified)
on Tue, 08/23/2022 - 3:39pm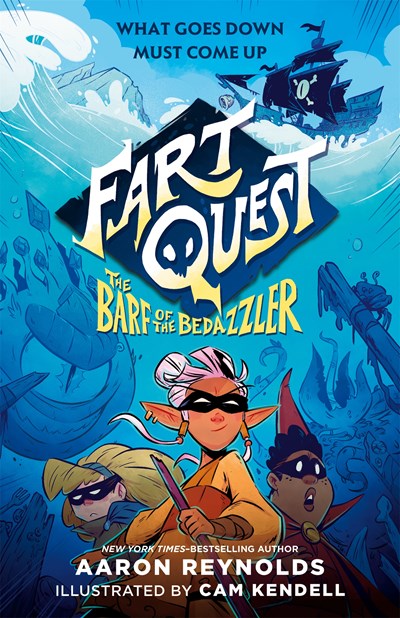 This book is for the Aaron Reynolds Virtual School Event on September 9th. You may have the book shipped directly to you, or select the "Store Pickup" option at checkout and the book will be delivered to your child through their school.
The second book in the laugh-out-loud fart-themed adventure series by acclaimed author Aaron Reynolds
After vanquishing the evil lamia and earning the praise of The Great and Powerful Kevin, Pan, Moxie, and Fart are feeling great. Their hero cred is at an all-time high and they are starting to feel like seasoned adventurers.

But that all changes when Kevin summons them for a new quest. Their goal: find a rare and monstrous creature of truly horrific power: a bedazzler. And bring back . . . its barf.

But finding a bedazzler is no easy task. Luckily, Kevin has a lead to point the fledgling heroes in the right direction. Rumor tells of a pirate captain that may be the only living soul to know the location of a beholder.

Can Fart and the gang win over this ruthless Pirate King and his crew? And if they finally make it to the dreaded bedazzler, how the heck are they going to get its barf?
Aaron Reynolds is a New York Times–bestselling author of many highly acclaimed books for kids, including Carnivores, Chicks and Salsa, Joey Fly, Nerdy Birdy, and the Caldecott Honor–winning Creepy Carrots! He lives in the Chicago area with his wife, two kids, four cats, and between three and ten fish, depending on the day.
Cam Kendell is the creator of such comics as Choose Your Gnome Adventure, Mortimer B. Radley: the Case of the Missing Monkey Skull, and Flopnar the Bunbarian and artist for board games like D&D's Dungeon Mayhem: Monster Madness and 5-Minute Mystery. When not drawing gnomes and/or goblins Cam enjoys birding, rocking on the accordion, loosing at board games, and hiking in the beautiful Utah mountains with his wife and four children, hoping to see a black bear... from a safe distance.

Image: